Welcome to Dime Software GPS applications.

---
---

BE SURE TO MARK THIS PAGE AS A FAVORITE OR BOOK MARK -- YOU WILL WANT TO RETURN --
You are attempting to drive from Wall Street to 215 W 23rd Street in New York City. It is 1:30 AM and you are not interested in getting out of your car to ask for directions. Fortunately you have GPS software loaded on your lap top computer, and also have a GPS receiver on the dash of your car. The GPS system shows your track as you leave the Wall Street area and head up Broadway towards W. 23rd.
After driving for some time you notice the car is vibrating and it appears that the right front tire is going flat. You zoom in and realize you are only about two blocks from City Hall. You make a right on Duane, go one block, make another right on Elk, go to Chambers and change your tire in the "relative safety" of city hall. Actually you probably should not even be driving in New York City at 1:30AM, but the GPS system will also help you find your way in any city, town, or rural area.
Dime Software
302 Holly Road
Adrian, PA 16210
Phone (724)954-3558
Web Site:
http://www.dimesoft.com
E-mail: Click here.
---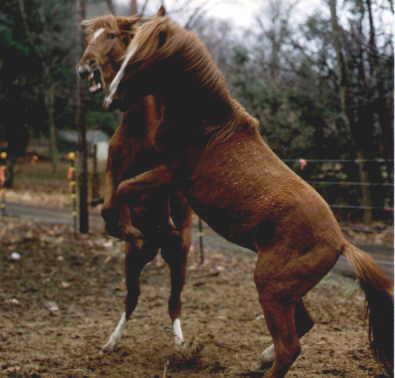 To see a short video of Uno de Mingo play his guitar, click on this text or the picture of Uno and his brother Cody at play. To order a CD with several training videos of Uno, click on the Buy Now Button. You can call us at (724)954-3558. The CDs are $7.95 + $2.25 shipping, 6% PA sales tax is added to all orders. Mail a check or money order to Dime Software, 302 Holly Road, Adrian PA 16210. Be sure to include your shipping address and phone number. This CD makes a perfect gift for children and horse lovers. There is not any computer editing to the videos -- Uno really plays the guitar and appears to enjoy playing for the sound (I do not honestly think we can call it music). He has been playing his guitar for about 7 years and likes to have an audience when he plays.

---
---