Welcome to Tyler's Pumpkin Patch

Protecting the Pumpkin plants from a late frost.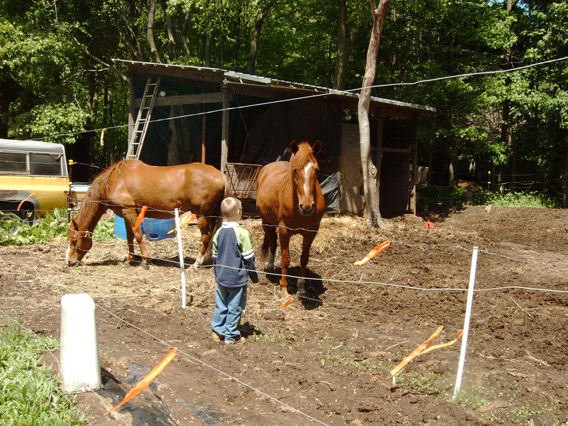 Cody! "Quit watching me work and do some work yourself!"
---
Pumpkin Pie recipe Ingredients: 3/4 cup brown sugar packed. 1 1/2 tbl sugar. 3/4 tsp cinnamon. 1/2 tsp ginger. 1/2 tsp nutmeg. 1/4 tsp allspice. 2 cup pumpkin. 1 1/4 cup evaporated skim milk. 3/4 cup egg whites whipped. 2 1/2 tsp vanilla. Preparation Instructions: Preheat oven at 375. Make pie crust. In a mixing bowl, combine sugars, cinnamon, ginger, nutmeg, and allspice. In another mixing bowl, combine pumpkin, milk, egg whites, and vanilla. Mix dry ingredients with wet ingredients just until moistened. Pour into prepared pie pan. Bake for 50 to 60 minutes, or until crust is nicely browned and the filling is set in the center when jiggled.
---
Chocolate Pumpkin Muffins recipe Ingredients: 1 ½ cups of all-purpose flour. ½ cup of sugar. 2 teaspoons of baking powder. ½ teaspoon of cinnamon. ½ teaspoon of salt. 1 cup of milk. ½ cup of solid pack pumpkin. ¼ cup of butter, melted. 1 medium egg. 6 oz of semisweet chocolate chips. ¼ cup of nuts, finely chopped. Preparation Instructions: Preheat your oven to 400°F (205°C).
In a large mixing bowl, combine the flour, sugar, baking powder, cinnamon, and salt. Form a well in the center.
In a small bowl, combine the milk, pumpkin, butter and egg; then add to the well in the flour mixture.
Add the semisweet chocolate chips and stir until the dry mixture is moistened.
Spoon mixture into greased muffin cups, filling each ¾ full.
Sprinkle 1 teaspoon of chopped nuts over each muffin.
Bake for 20 minutes, then allow to cool for 5 minutes. Remove from pans, then allow to completely cool on racks. Notes about this recipe: This recipe yields 12 muffins.
These recepies were taken from http://www.pumpkinrecipes.us/
Click here to return to Dime Software Marketing Page.