DIME SOFTWARE
Learn about Low-Tech Software

DIME SOFTWARE
302 Holly Road
ADRIAN, PA 16210
(724)954-3558
Email
To order or learn more about any products shown on these pages click on the link.
What is Low-Tech Software ?
The value of a computer is obvious in two distinct ways: Computers enable us to do something we could not do without a computer -- put men on the moon; or they permit us to perform tasks we have always done much faster and with less work -- accounting, bookkeeping programs etc.
LOW-TECH SOFTWARE:
Low-Tech Software is designed to do only one task and to save all data on the program disk. This is done to make it convenient to run and update the software on almost any DOS or Windows computer.
Low Tech Software also implies that all the software, and all the data, will fit on a low density disk to further expand the number of computers that can run the software.
Low Tech Software is not powerful, but it accomplishes the task it is assigned efficiently with ease of operation. The software is menu driven and the minimal required instructions appear on each screen.
Go to Dime Software Home Page
Dime Software

Go to Dime Software Nutrition, Diet & Exercise Page
Dime Software
302 Holly Road
Adrian, PA 16210
Phone (724)954-3558

---
---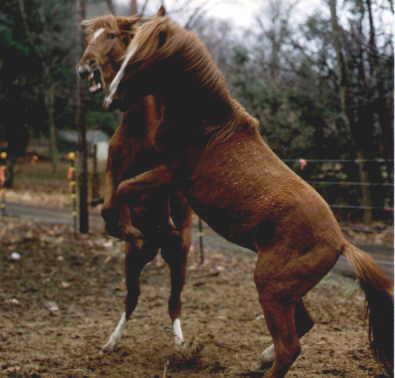 To see a short video of Uno de Mingo play his guitar, click on this text or the picture of Uno and his brother Cody at play. To order a CD with several training videos of Uno, click on the Buy Now Button. You can call us at (724)954-3558. The CDs are $7.95 + $2.25 shipping, 6% PA sales tax is added to all orders. Mail a check or money order to Dime Software, 302 Holly Road, Adrian PA 16210. Be sure to include your shipping address and phone number. This CD makes a perfect gift for children and horse lovers. There is not any computer editing to the videos -- Uno really plays the guitar and appears to enjoy playing for the sound (I do not honestly think we can call it music). He has been playing his guitar for about 7 years and likes to have an audience when he plays.
---