NUTRITION! EXERCISE! & DIET PROGRAM!


---

---

Our nutrition program is based on two assumptions:
1. What one eats for any particular meal or on any one day is not important, we gain weight over several months or years and we should lose weight the same way we gain it -- slow. The report section of our program does not even show the calories for each day -- it only shows the accumulated calories consumed and burnt over the entire report period. If you are really hungry for the MC Donald's 1/4 pound with cheese (Fat 260 cal., Protein 92 cal., Carbohydrates 148 cal.) and large frys (Fat 200 cal., Protein 24 cal. Carbohydrates 228 cal.) -- eat it and ENJOY IT because over the period of a week or month it will not be significant. BUT DO NOT DO THIS EVERY DAY OR SO!
---
2. It is very important to enter all data accurately and HONESTLY on the daily sheet, and enter that data to the disk as often as practicable, hopefully every day. This is important because one is usually surprised at how much one can eat and still lose weight or at least maintain weight. Also, this effort starts an unconscious process that frequently results in different food choices. If one cuts fat consumption even a little, weight loss will probably be the result. The act of recording and entering the data makes us more aware of the fat content of different foods and may, over a period of time, make us subconsciously choose lower fat foods. Entering all the data honestly and consistently is probably the most difficult thing to do, but it is also the most important habit to acquire.
---
The report section of the program, option 6, displays the total calories consumed and total calories burnt through normal activity and exercise. It also shows the % of calories in Fat, Protein, and Carbohydrates. The % of calories in alcohol is not displayed but is the sum of the total % displayed subtracted from 100. Reducing the % of fat will almost always result in weight loss and improved health.
---
---
FACT: If a person wants to lose 20 pounds over the next year, assuming he maintained weight over the last year and energy level remains constant, he must only reduce his daily caloric intake by 192 calories per day. This is equivalent to less than two tablespoons of vegetable oil reduction per day.
---
---
Dime Software
302 Holly Road
Adrian, PA 16210
Phone 724-858-1426
---
Visit page using this program to evaluate Low Carbohydrate Diet!
Visit our Low Tech Software Page.
---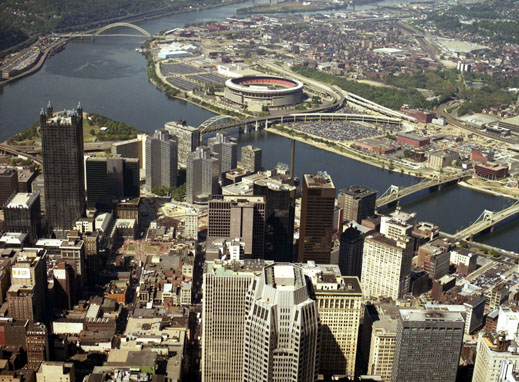 Click here to see a slide show of some of the photos on the CD
The CD includes all the photos shown in the slide show + several more of the Pittsburgh area. The CD also includes a few photos of Indian Lake Pennsylvania, near Shanksville where Flight 93 went down. These photos were taken in April of 1987, 14 years before the tragic attack. To order the CD click on the buy now button. The CD is $9.95 + 2.25 shipping + 6% PA sales tax.
---